Pastor Lititia J. Warren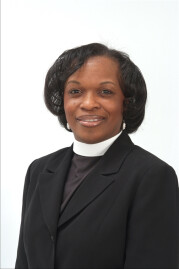 Pastor Lititia J. Warren was born and raised in the Washington, DC Metropolitan area. She is a product of the Prince George's County Public School System. Pastor Warren received her Bachelor's of Science degree in Mental Health from Morgan State University in Baltimore, MD in 1987 and her Master's of Theology degree from Wesley Theological Seminary in Washington, DC in 1997.
While matriculating at Morgan State University, Pastor Warren began her Christian ministry becoming a part of the Baptist Student Union on campus, holding the positions of Secretary, Vice President and President respectively. It was during Pastor Warren' s time at Morgan that she received her call to the Gospel Ministry in 1987. Pastor Warren has been ministering the Gospel of Jesus Christ for over 20 years. Pastor Warren founded and directed a group home for at-risk adolescent girls, called "My Sister's House, Inc. She has a passion for youth and community.
Pastor Warren is a prayer warrior who believes that the power to do ministry effectively comes from spending time communicating with God in prayer. She believes very strongly in the Great Commission found in Mathew 28:19-20 "Go ye therefore..." And therefore she believes the ministry should take her beyond the church building and into the communities -- to meet the community and to bring the community to the "Sanctuary". Pastor Warren is married to Elder Mark Warren, musician and worship and praise leader. They have three lovely girls, Markayla, Likiya and Markeisha.
Elder Mark Warren
Elder Mark Warren is a native of Maryland and attended Charles County Public Schools. He graduated Maurice J. McDonough High School and continued his education at the College of Southern Maryland. At the early age of 12 he began taking piano lessons from the great Jazz/Classical and Gospel music teacher Inez Porter.
Elder Mark Warren has been blessed by God to be able to teach voice bringing together harmonious sounds and to minister through instruments, such as the piano, organ, drums, saxophone, bass, guitar, congo's and the harmonic.
The Love of God and music has given Elder Mark Warren great opportunities in leadership at various churches in the Washington, DC. Metropolitan area to include: Woodland Village Baptist Church, Shalom Ministries Christian Center- Dr. Florida Morehead, Pastor, Greater Mt. Calvary Holy Church- Bishop Alfred A. Owens, Jr. Pastor, Sharon Bible Fellowship, Soul Factory- Deron Cloud, Pastor and Rock Creek Baptist Church-Rev. Jeffrey Mitchell, Pastor.
Elder Mark Warren's music ministry, through God, has blessed him to accompany such artist as Richard Smallwood of Vision, the BL&S Singers of Washington, D.C., Kurt Carr of the Kurt Carr Singers, Kirk Franklin of God's Property, Shirley Caesar, Rev. Flowers, Douglas Miller and Steve Lawrence from T.D. Jakes' Potter's House Choir.
Elder Mark Warren is the Music Director and shares in the work and responsibilities of Be Glorified Ministries where his wife, Lititia Warren, is Pastor. They are the proud parents of Markayla, Likiya and Markeisha Warren.